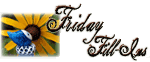 1. The last meal I had at a restaurant was delicious! My son and I ate Mexcian food.
2. Snakes are something I intensely dislike.
3. The full moon
makes people act wacky, especially students. Teachers can always tell when
there's a full moon by watching the students.
4. "Y'all" is one of my favorite local expressions.
5. Sometimes it's best to keep your mouth shut!
6. Mama Mia is the best movie I've seen so far this year! (Wait, this year? Maybe that would be No Country for Old Men. Mama Mia was the best one this summer)
7. And as for the weekend, tonight I'm looking forward to having a cocktail at a new restaurant nearby, tomorrow my plans include talking with hubby about the book we are reading and possibly going to a comedy club, and Sunday, I want to psyche myself up to go back to work on Monday after what seems like a very short summer off.