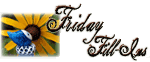 Here's another edition of Friday Fill-Ins! Click
here
to join in or read other bloggers' answers.
1. You know you're old when you work alongside "kids" you taught 15-20 years before, who still call you Mrs. A. instead of your first name.
2. My heart is divided between staying and going.
3. A sign is what I need RIGHT NOW!
4. I have felt the pain and guilt; I have known the depths of despair and loss.
5. Gah, won't these people go away!
6. Call as soon as you can!
7. And as for the weekend, tonight I'm looking forward to making a decision and sleeping, tomorrow my plans include making a decision without feeling guilty or having second thoughts, and Sunday, I want to carry out my decision and feel confident in it!
It feels like I'm talking "in code." For those that don't know, I'm having a hard time deciding whether to stick with things here in my "roommate-like" situation with my husband, or strike out on my own, and my children are depending on me to make the right choice.