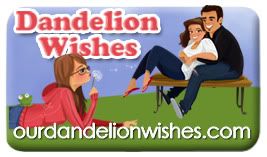 One of my favorite blogs is
Dandelion Wishes
. If you have never visited Mamarazzi at her blog, first of all, where have you been? Just kidding. But seriously, she has an awesome blog... Happy Lists,
Queen for a Day
, cooking with her daughter, a dose of humor in pretty much every post.
She's been nominated for Top Blog 2010 by
The Blog Guidebook
. She's made it all the way to round FOUR! She's also offering prizes to those of us who vote for her, so I voted. Will you?