I'm linking up with
Emmy Mom
for Friday 5!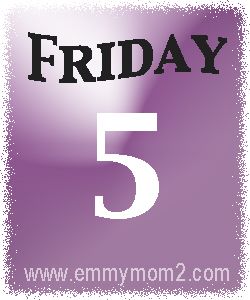 1. I have had sinus infections (possibly bronchitis, possibly strep throat) since Christmas. I have - whatever it is I have - for a week to ten days, get well for a couple of days to a week, and get sick again. I went to the Dr. for the third time today. She didn't test for strep because the treatment is the same for a sinus infection, so I am starting new medication. I'm tired of not feeling well. If I could only swallow without pain, I'd feel so much better.
2. Group texts - I hate them. I have two friends in particular that like to send group texts. Some people don't know how to set their reply to send the reply just to the original sender, so it goes to everyone, including me. I get texts from people I don't even know! It irritates me!
3. I want you to check out this new blogger,
A New Paige is Here
. Go over and give her some encouragement.
4. I'm disappointed that James Harden didn't get voted in as a starter in the All-Star game. He will likely start anyway, since Kobe Bryant is injured, but he deserved to be in that spot to begin with.
5. We had some mild weather for a couple of days, but now it's cold again, and very wet! Tomorrow looks to be more of the same. I don't mind the rain - except driving in it. Otherwise, I like rain.
Beautiful sky on Saturday last weekend.
My mom and daughter when we went to see Diavalo a few weeks ago.
Being silly at the basketball game. That's my face!
Flashback Friday - the twins and my nephew when they were 7 and 12.
My beautiful Lacy!