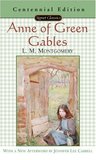 Anne of Green Gables
by
L.M. Montgomery
My rating:
3 of 5 stars
Anne Shirley is an 11 year old orphan. Marilla and Matthew Cuthbert (aging brother and spinster sister) want to adopt a boy because Matthew is getting older, and they need help around the farm. They get Anne by mistake. They consider taking her back to the orphanage but decide, instead, to give her a try. Red-headed, freckle-faced, talkative Anne's pleasant nature grows on them. She tries to be good, but she is more inclined to misadventures. What she lacks in manners and social refinement, she makes up for in intelligence and likability. Set in the town of Avonlea on Prince Edward Island,
Anne of Green Gables i
s the story of a beloved heroine who learns about love and family.
While this is a sweet story, it is not my cup of tea. I am glad I read it because it is a classic, but I wasn't particularly fond of it. I felt it was rather predictable and too syrupy for my tastes.
View all my reviews
Subscribe in a reader