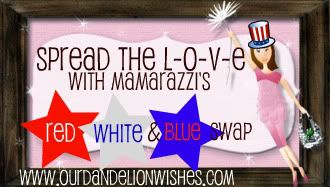 I received my swap package this week from Amy at
6FlowerMom
. Oh, what fun to open this package and get her four and a half page note explaining why she chose each of my gifts. Not only that, but she sent me a great dessert recipe! I think this swapper is a much better baker than I am, but I can follow a recipe, so I may give it a try.
In the meantime, look at these goodies!
Three containers of Lindt chocolates. I love these! They are already open and being consumed as I type.
3 boxes of nostalgic cracker jacks. Will share these with the kids!
A red, white, and blue fan for this Texas heat!
Big Red chewing gum.
An assortment of tea bags.
A pretty candle that says "peace" and smells wonderful!
A journal. One can never have too many of these!
Pens, red and blue, that will be great for teaching.
An adorable tea cup.
A re-usable grocery bag. She's going to help me go green.
Incense. I haven't seen this in years, but it smells wonderful.
Dr. Bronner peppermint soap.
A lovely magazine, "Traditional Home" which is perfect as I work around the house this summer.
A red, white, and blue lei.
A red, handcrafted bracelet made by a local artisan. It's beautiful!
A little garden: flower pot, gerbera daisy in a can, and a strawberry plant in a small terra cotta container.

Lacy even wanted in on the action.


Luckily, she received my package before the 4th of July Festivities. Here's what I sent her. In the first photo, I forgot to include the cutlery caddy and utensils, so I had to take a second photo.

A box of goodness to help her create the perfect patriotic picnic:

Notepad for to-do-lists
Woman's Day magazine for ideas and relaxing reading
Star cookie cutters for cookies or sandwiches
Gel cling for decoration
Socks for festive fashion on the fourth
Candles for the centerpiece
2 serving bowls
dinner plates
dessert plates
napkins
cups
tablecloth
cutlery
cutlery caddy
Bath & Body Works anti-bac hand sanitizer
can cooler for a soda or other canned drink
red tin pail full of after dinner mints
and... Blue glo bracelets for the kids after it gets dark
You can read her post about our swap here.
Amy, thanks so much for all the swappy goodness! Have a safe and happy 4th!