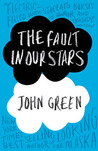 The Fault in Our Stars
by
John Green
My rating:
3 of 5 stars
Star crossed lovers meet tragic end. Romeo and Juliet? No. Although the author borrowed his title from a Shakespearean sonnet, Romeo and Juliet this is not!
Don't get me wrong. I liked the book. Emphasis on liked. Perhaps I bought into the "hype" and expected too much, but I did not find it "epic," "tragic," or "surprising" in any way. I wanted to be emotionally invested, swept up in a surging tide of romance and tragedy, but reading TFIOS was more like a lazy float down the river.
The author's pretentiousness, and the precocious characterization, annoyed me. I actually tired of the nonstop metaphors. The author seemed to be trying too hard. The characters, although they were suffering from cancer, were not exactly likeable, and the story itself was predictable from the beginning. To the people who say it made them cry, I must ask, "Why?" I knew what was going to happen, and these fictional characters are not, quite frankly, sympathetic. No, I did not cry.
This was just a good book. Good, not great.
View all my reviews