Happy Thanksgiving to everyone!
Life is not perfect; it never will be. But I'm happy, and I realize that I have so much for which to be grateful.
1. I'm thankful to live in the United States.
2. I'm thankful for entertainment: Movies, theater, music, television.
3. I'm thankful my mother is still alive to celebrate thanksgiving with me. She has been through two successful cancer surgeries, a knee replacement, a nasty broken wrist, and a hard fall on the concrete that damaged her teeth and mouth. All this within the last five years. Thank you, God, for giving me such a strong woman with a fighting spirit.
4. I am thankful for the youth leaders in my church who guide my children when I am not there to do so myself.
5. I'm thankful for the memories I have of my dad. I miss him so much.
6. I'm thankful for a husband who is good to me in all ways.
7. I'm thankful for my children. They are turning out to be such awesome young adults!
8. I'm thankful for the Internet. Yes, it sucks my time like crazy, but that is my choice, so...
9. I am thankful I can CHOOSE (lots of things, how to spend my time, what career I want, where to live, and so on.)
10. I'm thankful for friends who enjoy spending time together, socializing, having fun.
11. I am thankful for pets. All my fur-baby has to do is purr, and my spirits are instantly lifted.
12. I'm thankful I have a good job, a car, and a home.
13. Most of all, I am thankful that God loves me. I'm grateful to have a personal relationship with God through Jesus Christ.
That is the biggest blessing of all.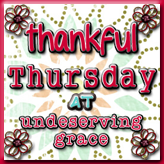 Wishing you a warm, safe, happy Thanksgiving!
Visit
Thursday 13 here
and
Thankful Thursday at Undeserving Grace Here
.